Aditi Mangaldas - Reviews
About | What the Dancer Says | Performances Abroad | Reviews | Productions | Contact Information
---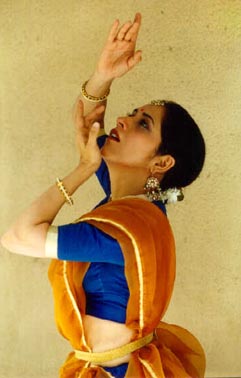 Aditi steals the show.
Rhythm and beauty all the way.
Highly innovative.
Dazzling Kathak all the way.
Aditi makes the item a sheer delight. Her innovative talent was in full cry and even in the padhant she excelled in rhythmic grip. Her dance had a painterly vision. Like quick brush strokes on the canvas came the fleeting images in space.
- By Smt. Leela Venkatraman
Senior Dance Commentator and Critic
The Hindu, India
---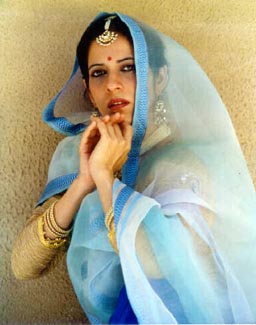 Par excellence a classical nayika.
Her rendition of 'sundara badan sukh sadan' enabled the rasika to enter her world of Kathak, a world of imagination and lyrical beauty. She led and we followed into a new world of Krishna, the lover, the fun guy and the philosopher par excellence.
- By Shanta Serbjeet Singh
Senior Dance Writer and Critic
The Hindustan Times and India
---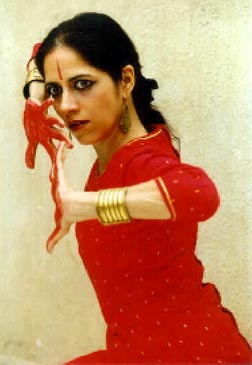 The traditional dance form of Kathak has taken a quantum leap forward. Aditi Mangaldas has given Kathak an unusual contemporariness extending its stylistic boundaries and has created waves in the tradition-bound world of Kathak.
Dressed in saffron robes, with the glow of inner fire burning in the blazing eyes and hands dipped in blood, Aditi has you at the edge of your seat.
Flawless dancing, excellent technique, arresting movements, and a finesse combined with grace.
- By Dr Sunil Kothari
Dance Scholar and Commentator
---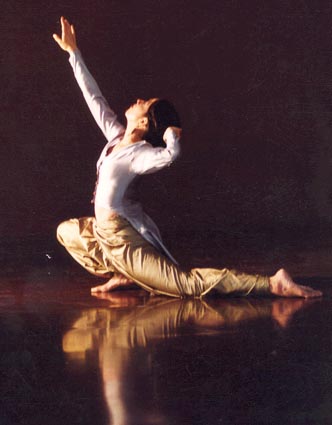 Aditi, as I always remember, was never satisfied with just the technique or the kinetics of dance. She wanted to explore - the space around her, the energy as a driving force, the innumerable patterns forming kaleidoscopic extensions, the colours, moods and just about everything. Her concerns were of larger images outside her own little frail being.
- By Smt. Kumudini Lakhia
One of India's leading Kathak gurus and choreographers
---