Deepa Ranganath
Biography | Performances | Reviews | Honours & Prizes | Contact Information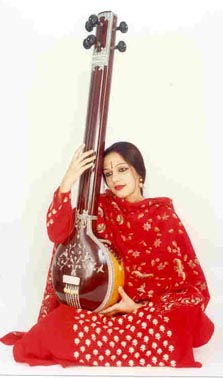 "Any knowledge about music is like knowledge about God, and my knowledge is as good as yours"
- Ustad Bade Ghulam Ali Khan
---
Biography
Deepa Ranganath is a Delhi based young vocalist in Hindustani Classical Music. She is naturally gifted, with a melodious and resonant voice ideally suited for capturing the vibrant emotions, hues and colours of Hindustani Classical Ragas. Deepa showed interest and her ability to grasp music at the tender age of 2 years and she became a Graduate in vocal music - Sangeet Visharad - at the age of 14. She began her training in the Guru-Shishya Parampara under the guidance of Smt. Madhuri Dandage, well-known representative of the Kirana Gharana.
She is currently undergoing advanced training under the tutelage of world renowned maestros Ustad Dilshad Khan and Begum Parveen Sultana. It was a dream come true for Deepa when she passed the traditional 'audition' that the Gurus took and she was formally intiated into their school of Hindustani Classical Music in 1993.
In April 1992, with the blessings of the late Vidwan - Sangeeta Kalanidhi Shri. Maharajapuram Santhanam, Deepa gave her first public performance in Madras, which was a great success. She followed it up by participating in the prestigious Tansen Thyagaraja Festival held in Madras at the Narada Gana Sabha. Deepa has also given vocal concerts at Rasika Ranjana Saha, Calcutta, India International Centre, New Delhi and Sri Sanmukhananda Hall, Mumbai. She was awarded the Madras Music Academy's Award for best junior artiste of the year, 1994. Since then, she has been performing regularly at prestigious concerts and music festivals. In 1998, she has been empanelled with the Indian Council for Cultural Relations (ICCR), in the Council's Reference Panel of Artistes.
Deepa has also been an outstanding student in her educational career. After graduating in English (Honours ) from Delhi University, she completed her MBA from FORE School of Management, New Delhi. At present she is working as a consultant in an organisation that takes on research and training projects for the development sector.
A serious, talented student with a sincere devotion and dedication to music, Deepa is an upcoming artist with a very bright future in the arena of Hindustani Classical music.
Distinctive Style
The school, in which Deepa is presently training, draws the best of all the Schools or 'Gharanas' that dominate Hindustani Vocal Music, especially the 'Patiala' and 'Kirana' Gharanas. Deepa, like other students of her distinguished Gurus, is encouraged to be individualistic and innovative to the extent that she has developed a style that is not only uniquely inspired but also has something new and totally hers.
The main focus is on the Voice and Deepa has been trained in different exercises of Voice Culture that allow her to span the "Three Octaves" with ease and clarity. She has also been trained in the other skills required from a Hindustani vocalist e.g. the singing of taans, from the simplest to the most complicated in thought and technique or then singing sargams and producing different combinations of notes. The nearly forgotten method of swarabheda or the possibility of shifting from one scale to another within a given set of notes is another characteristic found in her singing. She is being trained to conquer the various emotions and colours or the 'rasas' embedded in different ragas and pays detailed attention to the literature and imagery in the songs or 'bandishes', be it new or traditional.
Another important and distinctive characteristic of her style is that she has been trained in semi-classical aspects of Hindustani music like Thumri or Bhajans besides 'Khayal singing.
---