Kavita Dwibedi - Performances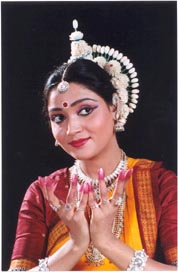 In India | Abroad | On Television | Professional Activities | Publications / Articles / Papers
---
In India
2000
Performed with her group during World NRI congress, organised by NRI welfare society at Taj Palace Hotel on 25th January.
Performed on the occasion of the Annual Award presentation ceremony of Sahitya Akademi on 22nd February 2000 as a part of the series of cultural programmes organised by the Akademi during the Festival of Letters, 2000.
Performed with her group during the inauguration of Jhansi Mahotsava in Jhansi on 29th February 2000.
Invited to perform during the conciding day of Kumaon Mahotsava in Almora on 9th March 2000.
Participated in the 38th Maharana Kumbah Sangeet Samaroha in Udaipur on 12th March 2000.
Performed during the 6th Mahari Award Presentation ceremony at Soochana Bhawan, Bhubaneswar, on 17th March 2000, after receiving the award from Guru Pakaj Charan, Odissi Research Foundation.
Invited to perform at Balasore during the Music & Dance Festival on 25th March 2000, organised jointly by Bharatiya Nritya Sangeet Kala Parishad and Guru H.K. Behera College of Art & Culture.
Performed Trigalbandi with Bharatnatyam and Kathak at the Ashram of Murari Bapu in Mahuwa (Gujrat) during Ram Navami celebrations on 16th and 18th April 2000.
Invited by the New Delhi Municipal Corporation (NDMC) to perform Trigalbandi with Bharatnatyam and Kathak during the two day-long festival of dance confluence, organised at Sur Tal, New Delhi, on 22nd April 2000.
Invited by the Centre for Cultural Resources & Training (CCRT), Government of India, to present a lecture-demonstration and performance at the All-India Teacher's training camp in Udaipur on 26th April 2000.
Performed during the inauguration of Vaishali Mahotsava in Vaishali (Bihar) on 12th May 2000.
Presented SRIRADHA based on the contemporary poetic work of Shri Ramakant Rath during HCL concert series, organised by Habitat World at India Habitat Centre, New Delhi, on 5th June 2000.
1999
Performed Jugalbandi with Kathak on the occasion of the third International Petroleum Conference PETRO-TECH '99 in the capital.
Participated with her group in the annual Sawaswati Puja celebration organised by the Delhi Oriya Students Association.
Invited to perform with her group at the Pratishtha Divas Samoroha of the deities at Lord Jagannath Temple, Tyagaraj Nagar, New Delhi.
Performed with her group during the final day function of Mines Safety Week Celebration 1998-99 of Ghaziabad region, organised by Gujarat Ambuja Cements Limited at Darlaghat, Himachal Pradesh.
Presented her solo dance recital during the International Conference on Geomatics Beyond 2000 organised by Indian Institute of Remote Sensing at Dehradun.
Invited by Information and Public Relations Department, Government of Orissa to perform at the premises of Lord Jagannath Temple, Tyagaraj Temple, New Delhi on the Ram Navami Day on 25th March.
Performed during the inauguration of the first ever fortnight-long Orissa Crafts Bazaar at Baba Kharak Singh Marg, New Delhi, organised by Orissa State Handloom Development Corporation on 28th March.
Participated in the Orissa Day Celebration 1999 with her group at Mavalankar Auditorium, New Delhi on 1st April.
Invited to perform during the inauguration of the celebration to mark the launching of Explore India in the Millennium Year, organised by Government of India Regional Tourist office, New Delhi, at India Gate lawns on 3rd April.
Performed in the Baithak programme organised by Pracheen Kala Kendra, Chandigarh, to felicitate the delegation from Pakistan on 11th May.
Performed for IAS officer trainees of 1997 batch at Lal Bahadur Shastry National Academy of Administration, Mussoorie, organised by the Fine Arts Association of the Academy.
Performed during the International Quality Management Seminar, organised by Institute of Directors at Taj Mahal Hotel, New Delhi.
Invited by the Embassy of Tunisia to perform for the Tunisian delegation visiting New Delhi at Hotel Maurya Sheraton.
Performed in the Retrospective Series organised by the ICCR in New Delhi on 17th November.
Participated in the second Jiwan Pani memorial festival in New Delhi, organised by Centre for the Indian Classical Dances on 1st December.
Performed in a charity show at Vrindaban organised by Red Cross Society of India for the benefit of super-cyclone victims of Orissa on 5th December.
Presented Trigalbandi with Bharatnatyam and Kathak in a special benefit show entitled Joining Hands in New Delhi, organised jointly by Utsav Educational and Cultural Society and India Habitat Centre in the aid of super-cyclone victims of Orissa on 10th December.
Presented Trigalbandi and titled Tridhara with Bharatnatyam and Kathak during Mahavishnu Yagya, organised by Rawatpura Sarkar at Raipur (MP) on 14th December.
Performed during the inaugural ceremony of Mamallapuram Dance Festival at Mahabalipuram beach, organised by Tamil Nadu Tourism on 25th December.
Presented her dance recital during the music season at Kamraj Memorial Hall, Chennai, organised by Priya Vision, on 27th December.
1998
Festival of Odissi dance Nrutya Parva organised by the Sangeet Natak Akademi, New Delhi
13th Konark Music and Dance Festival at Konark Natya Mandap, Konark.
20th year celebration of Soorya Festival.
Presented a new choreography Proshitapatika at New Delhi
Sidharth Festival of Dance at Sidharth Kalapeetham at Vijaywada.
1997
Tansen Thyagaraj Festival at Lucknow organised by Uttar Dakshin Cultural organisation.
Inaugural evening of the 176th Natyanjali Festival at the premises of Famous Nataraj Temple, Chidambaram organised by Natyanjali Trust.
Mamallapuram Dance Festival.
Annual national festival of dance at Palakkad, Kerala.
Kerala Kalamandalam,Kerala.
Lok Chhavi Festival at Rawatpura, MP.
1996
Jugalbandi with Bharatnatyam dancer Chitra Jagadishan at Malabar Mahotsavam at Calicut organised by District Tourism Promotion Council, Calicut.
Khajuraho Festival of Dances at Khajuraho organised by Madhya Pradesh Kala Parishad.
Repeat recital of Ritu-Rang at Ashoka Hall, Rashtrapati Bhawan before the Honourable President of India, Shri Shanker Dayal Sharma
4th Puri Beach Festival at Puri organised by Hotel and Restaurant Association of Orissa.
Mamallapuram Dance Festival.
KinKini Nrithyotsava at Banglore.
Tourism Week on Onam Celebration at Thiruvananthapuran, Kerala.
Gandhi Jayanti Celebration at Jammu & Kashmir.
1995
Mamallapuram Dance Festival.
'Kumbhabhishekam' ceremony at Trichur, Kerela.
Jugalbandi with Manipuri on the keertan style music at New Delhi.
3rd annual Festival of Music & Dance organised by Upasana Academy of Fine Arts at Coimbatore.
India International Trade Fair Cultural programme.
Konark Festival organised by OTDC & ORC, Bhubaneswar.
Thunchan Memorial Festival at Tirur, Kerala.
1994
Mamallapuram Dance Festival at Mahabalipuram organised by Department of Tourism, Government of Tamil Nadu.
Soorya Music & Dance Festival at Trivandrum Kerala, organised by Soorya.
Inaugural evening of "Dhavajautsava"organised by Nalanda Dance Research Centre, Bombay.
Chittrai Festival at Madurai,Tamil Nadu.
Lasya Lahari Festival by ICS, Delhi.
1993
Cultural evening organised to observe U.N.Day Celebration by the Indian Council for Cultural Relations (ICCR) & the U.N Federation in India.
UP Sadbhavana Samaroh at Dehradun organised by Song & Drama Division, Government of India.
1992
Kal-Ke-Kalakar Festival at Bombay, organised by Sur Singar Sansad, Bombay.
Konark Festival at Sun Temple, Konark organised by Government of Orissa.
National Centre for Performing Arts (NCPA) Bombay.
1991
6th Yuva Mahotsava organised by Sahitya Kala Parishad, Delhi
1990
Sangeet Nritya Samaroha organised by Indian Council for Cultural Relations (ICCR) & Sangeet Natak Akademi at New Delhi.
Others
Gave lecture-demonstrations in rural schools on behalf of IRCEN and SKP.
Conducted lecture-demonstrations in Central School, Calicut, organised by SPICMACAY.
---
Abroad
Kavita Dwibedi has had highly successful performance tours to several countries including the U.K, Italy, Sweden, Finland, Latvia, Estonia, Denmark, Ireland, Norway, U.S.A and Canada. Her presentations have included one a the United Nations Headquarters at New York. She has also taken part in international events in Spain, China, Japan, Kuwait, Maldives, Kyrgyzstan, Germany and France
2000
Performance at Dhalem Museum, Berlin - organised by Natraj School of Dance in association with Indian Cultural Centre, Berlin.
Held ten-day long workshop at the Indian Cultural Centre, Berlin.
1999
Concert at Dhalem Museum, Berlin - organised by Natraj School of Dance in association with Indian Culture Centre, Berlin.
Non-stop 48 hours "Kiez International Dance Festival" at Richardplatz, Berlin organised by Werkstatt Der Kulturen.
Festival "Sur L'air de l 'Inde" at Paris for two consecutive days organised by Theatre En Tete, France.
Held a four-day workshop at the Indian Cultural Centre, Berlin.
1997
Indian Council for Cultural Relations (ICCR) sponsored performance tour to Latvia, Sweden, Finland, Estonia, Norway, Denmark, lreland and Italy as part of the 50th Anniversary celebrations of India's Independnce.
Series of performances in the U.S.A. in Houston, Dallas, Buffalo,Chicago, Minneapolis and Miami. These were hosted by organisations like the Indo-American Association, Nrutyashala, Lucent Technologies, Hindu Temple Society, Aurora Academy of Dance, Hindu Society of Minnesota and Hindu Society of America, Miami
28th Annual convention of Orissa Society Of America at Houston, USA.
Performed at The Nehru Centre, London.
Held a one-week workshop in the USA in Houston.
1995
Performance tour in the Maldives organised by the Indo-Maldives Friendship Association.
Jugalbandi with Bharatnatyan at Kuwait.
1994
International Festival of Oriental Glamour Song & Dance in China, organised by the Beijing World Cultural Service Corporation and the Chinese Ministry of Culture.
India Promotion Week at Osaka, Japan.
1991
Festival of Indian Culture at Barcelona, Spain, organised by the Indian Ministry of Tourism. .
---
On Television
Has been accorded 'A' grade by Doordarshan.
Has made several solo & group dance recordings for Delhi, Bhubaneswar, Thiruvananthapuram and Madras Doordarshan Kendras and for the Central Production Centre (CPC), Delhi
Appeared on State Television channels of Spain, China, Japan and the TV Ceylon Channel in Canada.
Appeared in exclusive programmes and interviews on CNN, Asianet and Discovery Channel.
---
Professional Activities
In India
Invited as judge on several occasions by different colleges of Delhi University to conduct the inter-college dance competitions.
Conducted the Annual Examinations for first and second year students in Odissi dance of Gandharva Mahavidyalaya, New Delhi, as an invigilator.
Invited as a judge of different competitions during Nehru Bal Mela hosted and organised by Nehru Bal Samiti, New Delhi, in 1995.
Served on the screening committee several times to conduct the upgradation of the artistes empanelled in the Song and Drama Division, Government of India.
Invited as a judge in the competition of All-India Professional dance groups of the Song and Drama Division, Government of India.
Abroad
Led and guided the Indian Children delegation consisting of child artistes in the branch of Odissi and Bharatnatyam to participate in the international children's festival, "Young Talents", in Bishkek, with an invitation from the Kyrgystan Government in 1998.
---
Publications / Articles / Papers
"The Art of Teaching", published in the Souvenir of Patitapawan Kala Niketan, New Delhi.
"The Role of Culture in Today's Modern World", a paper presented in Delhi-Maheshwari Sabha, held in 1995 at the Constitution Club, New Delhi.
"A Tour Report of My China Visit in 1994" - read during the felicitation function organised by the cultural wing of the Chinese Embassy, New Delhi.
"Unforgettable Moments in the Land of the Corals" - a report on Ms. Dwibedi's visit to the Maldives in 1995, prepared by her and presented to the ICCR.
"The Tradition and Modernisation of Shadow Puppetry of Orissa" - "Ravana Chhaya", published in Oriya daily, "The Sarnay", on 18th July 1999.
---