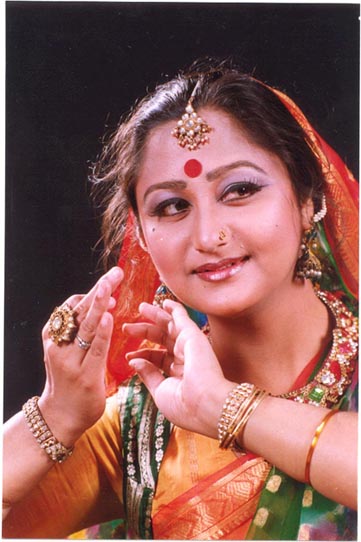 Mukta Dwarika Mishra
Kathak Exponent
Curriculum Vitae
Mukta Mishra
Reviews
Contact Information
---
Curriculum Vitae
Name
Mukta Dwarika Mishra
Style
Kathak
Names of Gurus
Shri Manish Kumar Gangani
Smt. Poonam Jain
Pt. Birju Maharaj
Education
(Academics) A graduate of Delhi University
(Professional) M.A. (Praveen) Prayag Sangeet Samiti, Allahabad. Gold Medalist and was amongst the toppers throughout.
Professional Experience
*Has performed extensively in India and abroad. * Is on the Reference Panel of the Indian Council for Cultural Relations (ICCR).* Is a high-grade artiste of Doordarshan (National Television) and has performed for both Indian & foreign TV audiences
Awards
*Golden Praug international award * Nritya Shivali *Nritya Praveen *Miss Daulat Ram 1983-84
---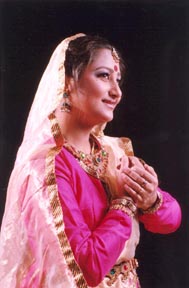 Mukta Mishra
A rare combination of artistic dexterity and creativity, Mukta combines personal charm and grace with technical brilliance. Having studied under the great Masters, she brings out the beauty and emotions embodied in the Lucknow school of Kathak dance --with its emphasis on the expression of feelings -- and the sparkling rythmical intricacies of the Jaipur school.
The secret of her magic lies perhaps in her intense devotional fervour, which elevates her style to transcedental heights. The mastery of technique that she effortlessly uses to coax sounds out of the ankle bells hypnotises her audiences. Gifted with chiselled features, in her abhinaya the expressions chase each other at a perfect pace, transforming her visage from soft to stern, shy to strong, sad to sublime.
Apart from being a spell-binding dancer, Mukta is a gifted choreographer and is ever open to innovation. She has evolved a unique style, combining elements from various gharanas. Though experimenting to maintain an equilibrium between conventional style and contemporary demand, she has successfully maintained the purity of the dance. She imparts training to her disciples at the institution founded by her -- Nritya-Kala-Niketan, which is affiliated with the Sangeet Natak Akademi.
---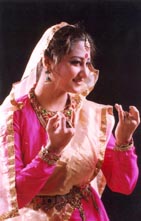 Reviews
Mukta -- the unorthodox performer.
Mukta has proved there was no need to create any hungama and noise to impress. Looking like a miniature painting nayika..... she danced with confidence the parans..... the gats and chakkars..... full of promise.(from the Indian press)
Mukta Mishra gave a fine Kathak recital that was marked by fluency and grace. That she was a master of rhythm, however complicated, was evident throughout her pure dance sequence. Full of stamina.(from the London press)
She revealed gifts of rhythmic control, spectacular and flawless movements. Above all was her smile which adorned her sharp features and delicate looks .....enacted superbly with feeling. Her eyes conveyed a hundred emotions.... a slight nod of the head, the hand and even the fingers portrayed the fineness of the art.(from the Los Angeles press)

---
Contact Information
Address
Nritya Kala Niketan
3rd Floor, 1320 Guliyan Lane
Near Dariba
Delhi 110006
INDIA
Phone: (91)(11) 327-0242, 326-1024, 325-0886
Mobile: (91) 98-101-11757
e-Mail: muktamishra@hotmail.com
---
This page was made by KidNET BBS, and is hosted by the ICCR.