Deepti Omchery Bhalla
"Melodious voice and technical perfection are her forte in music; stylistic purity and aesthetic value are the distinguishing features of her dance....."
'Natya Ratna' Award citation of Dr. (Mrs.) Deepti Omchery Bhalla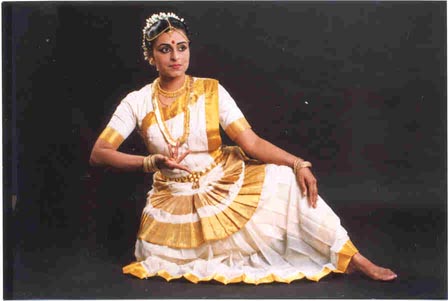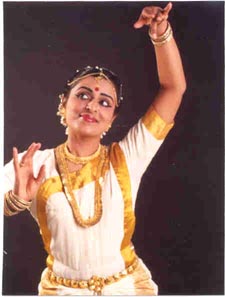 A rare combination of singer, dancer, researcher and author, Dr. Deepti Omchery Bhalla is equally talented and accomplished in each.
---
Training in Dance
Deepti was privileged to learn Kathakali under distinguished Gurus : Guru Punnathur Madhava Panikkar and Guru Sadanam Balakrishnan besides other teachers of the International Centre for Kathakali, New Delhi, where she was a student for more than twelve years.
She learnt Mohiniattam, the female classical solo dance from the great exponent Kalamandalam Kalyani Kuttiamma and also benefitted from the expertise of Guru Sadanam Balakrishnan.

---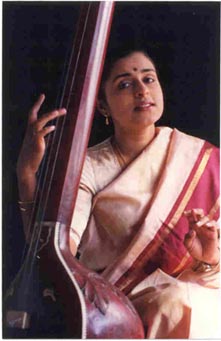 Training in Music
Deepti is proficient both in Carnatic and Hindustani classical music. She has learnt both systems of classical music from well known Gurus. Among her teachers of Carnatic music are her mother Dr. (Mrs.) Leela Omchery, Vidwan T.S. Raghavan and the faculty of music and fine arts, University of Delhi, from where she took her MA, M.Phil, and Ph.D in Carnatic Music. Eminent Hindistani vocalists Dagar Brothers and Yunus Hussain Khan were her Gurus in Hindustani music.
---
Performances in India
Deepti has performed at all major dance festivals within the country--- including the Khajuraho Festival, Madhya Pradesh, the Avadh Sandhya Festival in Uttar Pradesh, the Apna Utsav in New Delhi, the Mamallapuram Festival in Chennai, the Parangotsav of Mysore, the Lucknow Mahotsav in Uttar Pradesh, the Uttar Dakshin Sangeet Sangam in New Delhi, the Ragini Devi Videsh Utsav in New Delhi, the Nishagandhi Festival of Kerala, the Soorya Festival of Kerala, the Festival of Music & Dance in Tirupati and the 'Swarna Samaroh' Kalakshetra in Chennai (marking the 50th Anniversary of Indian Independence organised by the Government of India).
---
Performances Abroad
Deepti has given presentations in several countries, including performances at international festivals. These include the (former) USSR, Japan, Egypt, Germany, Italy, Switzerland, Hungary, Austria, Denmark, Singapore, Malaysia and the U.A.E.. She is an empanelled artiste of the Indian Council for Cultural Relations (ICCR) -- the apex autonomous organisation of the Government of India with the mandate of cultural diplomacy.
---
Research & Publications
Dr Omchery Bhalla has done a number of Research Projects in Music and Dance including :
Research and Documentation Project on Music and Musical Instruments of India for the Sangeet Natak Akademi.
Research on the Origin and Development of Mohiniattam.
She is a Guide and Examiner for research scholars and fellowship recipients of the Department of Culture
Deepti also has a number of publications to her credit, including books and papers, both in Malayalam (her mother tongue) and in English. The publications in English are :
Indian Music and Allied Arts ( in 5 volumes).
Gleanings in Indian Music
Immortals in Indian Music
Sopana Music (under print)
---
Distinctions and Awards
Deepti had the distinction of topping the University in B.A.(Hons.) and in M.Phil and being awarded the gold medal. She was a recipient of the Delhi Academy of Arts (Sahitya Kala Parishad) Scholarship.
She has been honoured with the "Natya Ratna" title from AKMK Sabha (Kerala), the Abhivyakti Kala Sangam Award for dance (New Delhi) and the Nana Mini Screen Award for music (Trivandrum).
An A-top graded music and dance artiste of Radio and Doordarshan (Indian Govt. TV Network), Deepti has featured in national programmes of Doordarshan. She has been Co-host to the Dordarshan Weekly Programme "Sangeet - Samay". She participated in major Multi Media Project "Geeta Govindam" produced jointly by Xerox, USA and IGNCA India.
---
Contact Information
The artiste is presently Reader ( Associate Professor ) in Carnatic Music at the Faculty of Music and Fine Arts, University of Delhi
Address
BIII-87 Ashok Vihar (Phase II)
New Delhi -110052
India
Phone
(91)(11) 7225447
(91)(11) 7213641
(91)(11) 7110264
Email : bhavidya@del2.vsnl.net.in
---
This page was made by KidNET BBS, and is hosted by the ICCR.